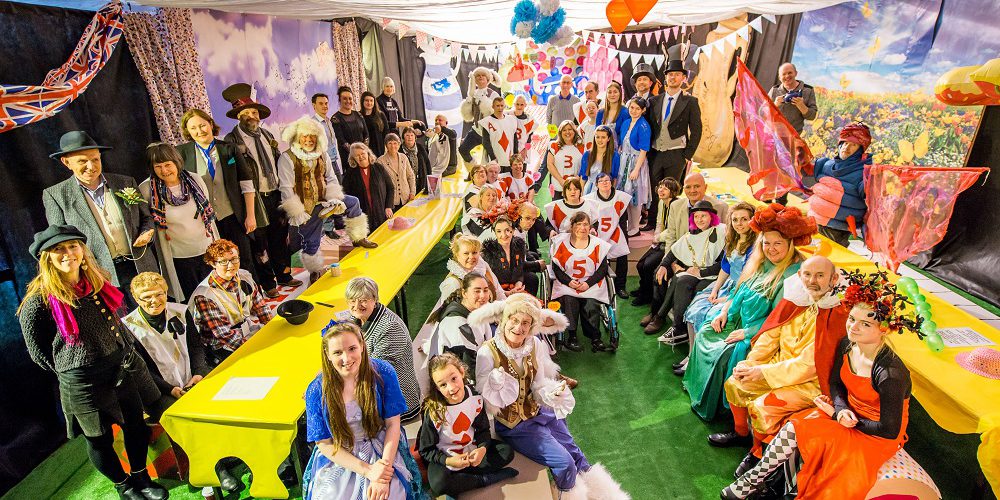 In Another Place is a Christian Community Theatre Company located in the heart of the Bootle Strand Shopping Centre. We have a mission to take good news outside church walls and bring joy and dignity to the communities in which we work. Located in the middle of a bustling mall we offer weekly workshops and activities based around our activities as a Theatre Company.
Our cardboard and sewing workshops create props, costume and scenery for our upcoming productions and our drama workshop provides an opportunity to learn new skills and get involved in our performances. Every Saturday we host Family Friendly events in the Shopping Centre as we work to change the local perception of the area. We had great success in this following our UK to Ukraine Eurovision Celebration which received high acclaim in the local papers. 
Alongside our activities in Bootle Strand we run three school assembly teams, serving schools in Bootle and Crosby and employ an Assembly Ambassador who works with schools to equip students to deliver assemblies to their peers. 
Of course, being a theatre company we are always working on our next production. To find out what's coming up check out our what's on page. We hope to see you in the shopping centre or at one of our events soon! 
If you would like to know more about who we are and our story, you can meet the team here and read about our history and how it all started with a production of the first nativity on Crosby Beach in 2005. You can also find details of our past productions here. 
Find Us At:
In Another Place
134 The Esplanade
Strand Shopping Centre
Bootle
L20 4SP